SNK Studios has announced it will provide the voice
recording over the next year or so for the new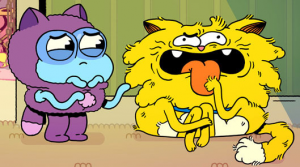 animated TV comedy series, Counterfeit Cat.
The series is a co-production between Wildseed Studios and Tricon Kids & Family for Disney XD EMEA.
All of the voices will be recorded in-house and include some familiar names: British comic actor Marc Wootton (Nativity!) voices 'Max', the anxious but vain house-cat, alongside comedian Kayvan Novak (Phonejacker) who voices 'Betty'.
Aimed at the 6 to 12-year-old audience, the series consists of 52 x 11 minute episodes and 11 x 2 minute shorts all airing on Disney XD.