Ouno Creative were commissioned to design a high-tech exhibition area within the GKN Pavilion building at the 2016 Farnborough Airshow. The client wanted to showcase multiple messages – their manufacturing capabilities, use of advanced technologies, their global reach and their plans for the future. The challenge was to communicate this wide variety of complex messages to visitors in an engaging and entertaining way.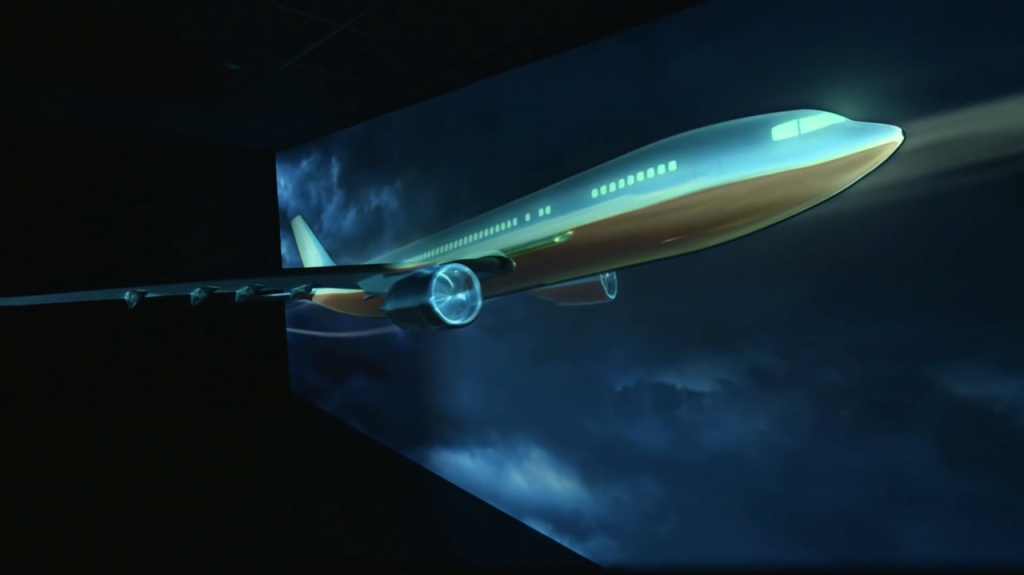 To achieve this Ouno employed a range of interactive technologies, including a holoscreen container, a videowall, tablet apps and touchscreens to deliver a high-tech visitor experience within an 'gallery' style space.
The main attraction of the Pavilion was the 'Making Things Fly' 3D image mapping exhibit. This was a 3 minute audio-visual presentation that ran at regular intervals within in a small theatrette area. Having this 'theatre' performance area was an important part of Ouno's creative concept. By making visitors wait for each showing and then enter a separate darkened viewing space, we delivered a sense of expectation.
From concept to reality
Once Ouno had convinced the client that 3D image-mapping could deliver the 'wow' factor they wanted for their Pavilion, we proceeded to plan the animated content to project onto the model. Ouno also produced the script and storyboard for presentation, and designed the theatre area space.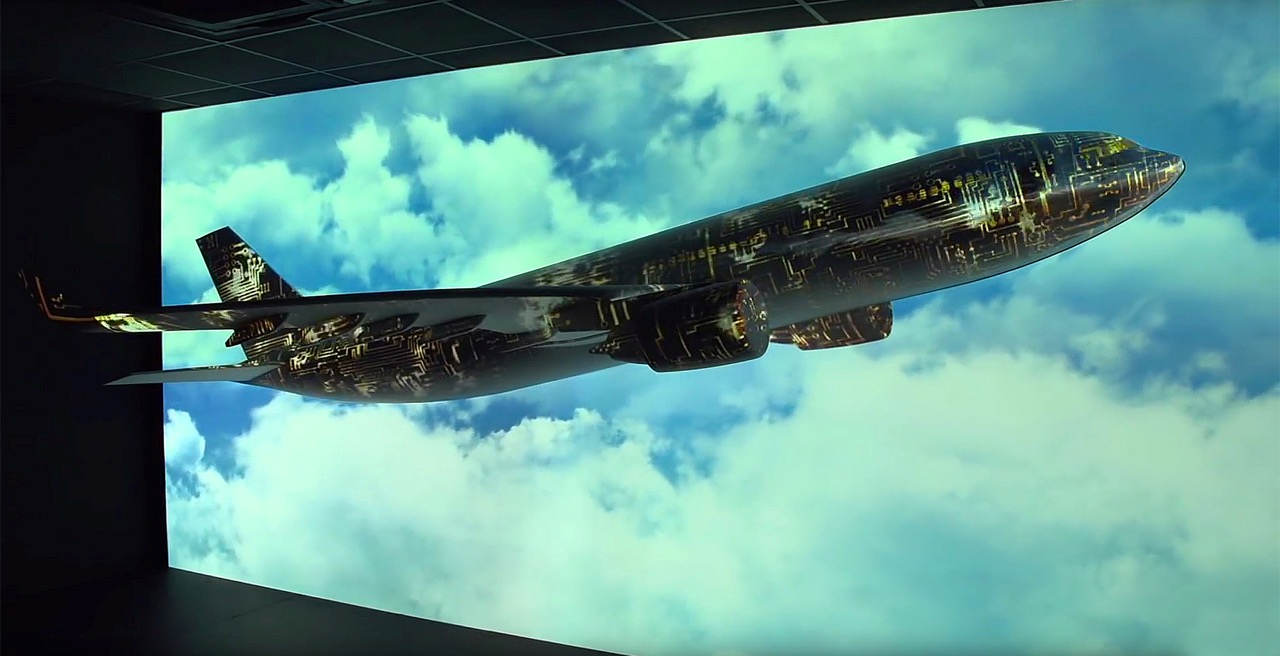 The next stage was to assemble a team capable of turning our vision into reality. Ouno teamed up with Drive Productions to create the 3D mapping and audio segments. The Drive team worked closely with Ouno and the client to plan the visuals to be used within the animation. Drive then created complex and stunning visual 3D animations that would convey the many clever manufacturing processes and technologies developed by GKN Aerospace.
The projection surface was to be a 5 metre long model aircraft – precision machined and handcrafted from high density foam. Ouno commissioned JH May model makers with this task. They built the model in sections, assembled it onsite and expertly mounted the model so it appeared to float on a wall within a circular theatre environment. This was our 'blank-canvas'.
The final part of the team was exhibition builder SDD/GES, who built the bespoke Pavilion exhibition area and theatre space working from Ouno's plan drawings and 3D visualisations.
A complex technical challenge
Using complex multi-layered projection-mapping techniques, the 3D graphics were then overlaid and wrapped on to the contours of the model plane, including the fuselage, the wings, the engine and the tail fins.
Nine projectors were used to cover the complex model with five separate content layers. This allowed the audience to view the aircraft and experience the mapped projections at very close quarters.
A range of eye-catching effects were mapped onto the aircraft which transformed the surfaces into liquid metal, frozen ice, a transparent X-ray effect, a 'Tron' style wireframe and more. This technique also allowed us to make the aircraft skin transparent so internal wiring, structures and engines could be seen operating.
To complete the immersive environment, innovative sound design was used by Drive to carefully engineer bespoke music, SFX and voiceovers and create perfect audio clarity in an acoustically-challenging space.
Successful delivery and a happy client
A project this ambitious, produced to tight timelines and involving multiple teams is never easy to pull-off, but thanks to great teamwork and a supportive client it proved to be a real winner. It was the only projection-tech experience to be seen at this year's Farnborough International Air show and was deemed to be a terrific success by all at GKN Aerospace and feedback from visitors was incredibly positive.
Read more about it here.