Size doesn't always matter; it's what you do with it. By implementing innovative features and graphics to match, you can create an impressive exhibition stand with as small as a 3m x 2m footprint. So, if you've decided on a trade show, don't shy away if your budget doesn't allow for a big plot, take away these tips for exhibiting success from your small exhibition stand.
Your exhibition stand is the very first thing that your visitors will see when they interact with your brand at an exhibition. But, big features aren't just reserved for big exhibition stands – there's plenty that you can pack into your plot to make a great first impression and, ultimately, engage your visitors.
These three examples breakdown different features and aspects to give you a ton of ideas for your small exhibition stand.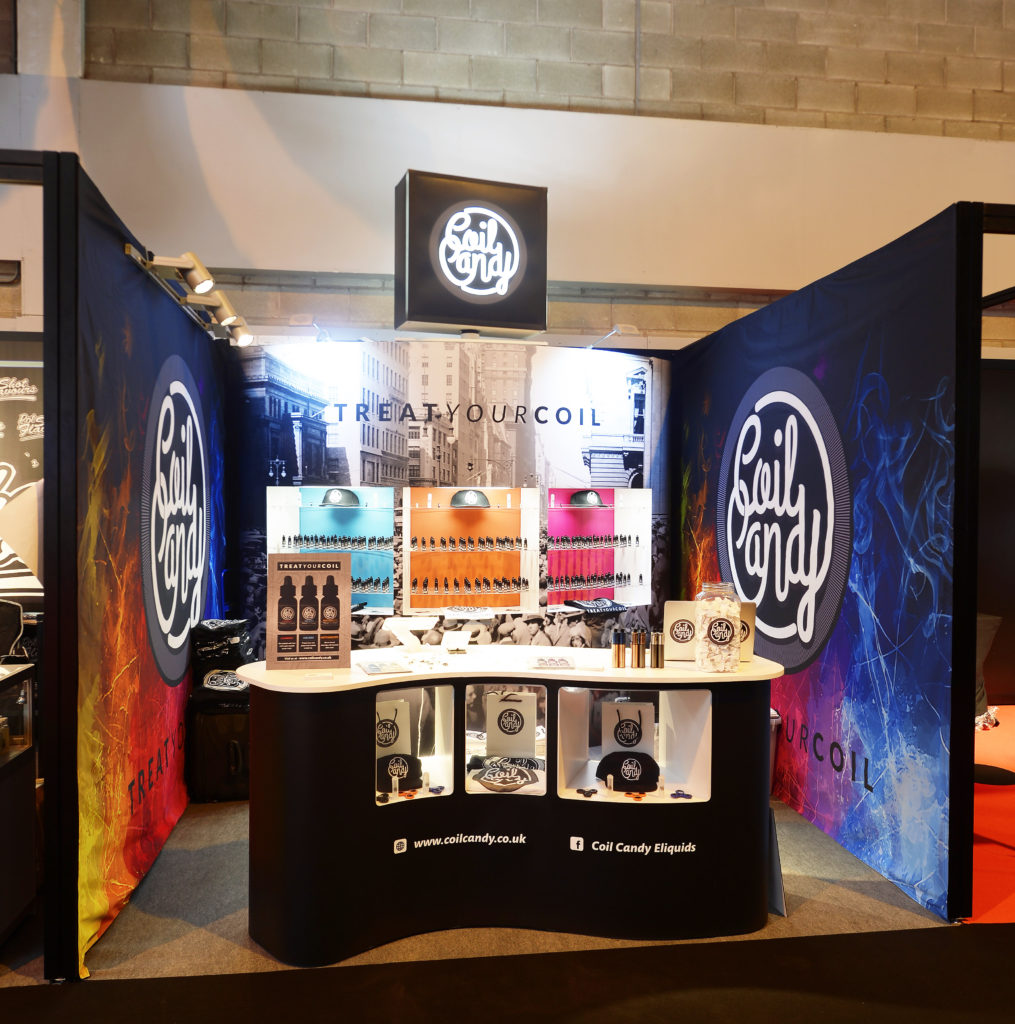 Coil Candy @ Vaper Expo Show 2018 – NEC, Birmingham
Heading to Europe's leading vape exhibition that attracts the world's most renowned brands meant that Coil Candy had to go big to attract the attention of a vaping community that was keen to try products and discuss the latest hardware with the hundreds of exhibitors at the show.
Coil Candy and the Quadrant2Design team included a bunch of features that were fit for purpose of the exhibition at NEC, Birmingham.
✔ Branded counter, with open access to shelving at rear and clear windows to front
✔ Fret-cut backlit rotating header
✔ Illuminated showcases throughout, incl. integrated shelving for product display
Perfect for: Exhibitors looking to attend consumer shows and successfully show off their product in an attractive way. The front branded counter allows a platform to "demo" products and to ultimately draw visitors to your exhibition stand, even on a smaller footprint.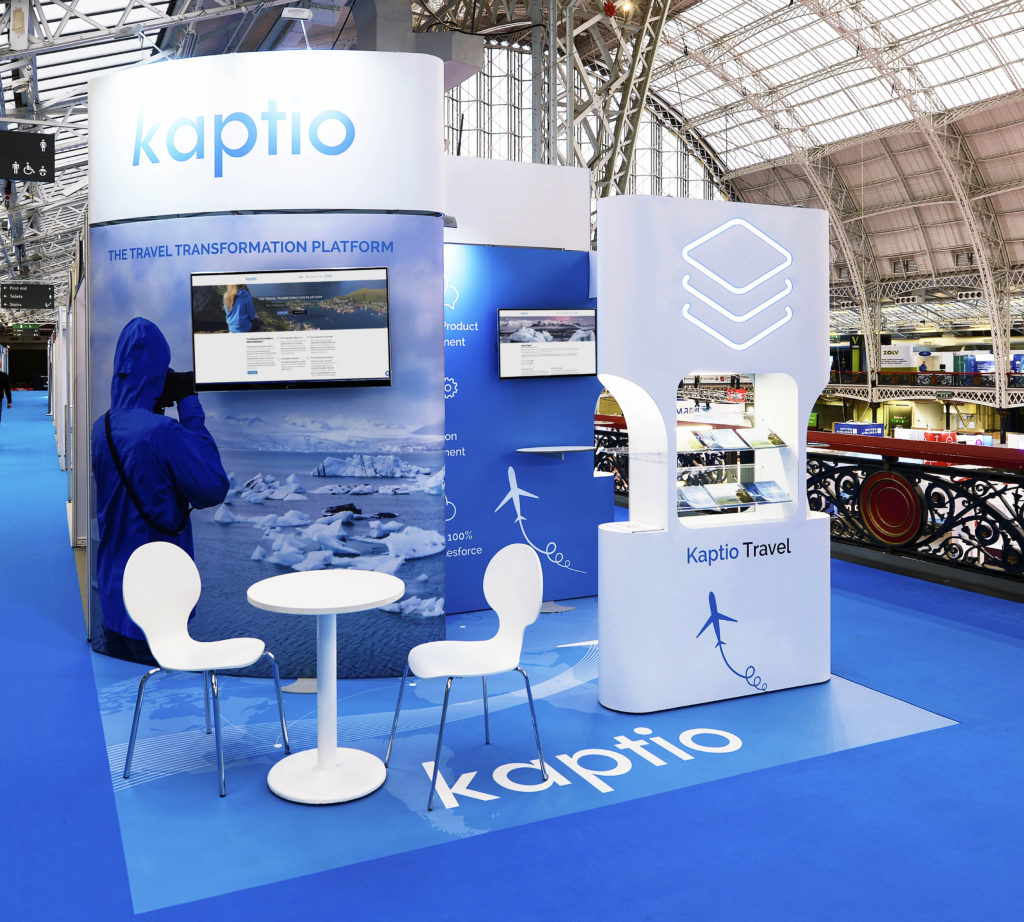 Kaptio Travel @ Travel Technology Europe – Olympia, London
Travel Technology Europe is an established show that has run 15 consecutive years. Kaptio as an established brand themselves needed a space that would welcome discussion and questions in a friendly B2B environment.
✔ Bespoke photo-flooring
✔ Fret-cut backlit panel
✔ Double side showcase, incl. custom cut aperture
Perfect for: Exhibitors looking to create an open-plan meeting point for their clients, as well as an accessible beacon for potential clients. The double side showcase gives the smaller exhibition stand depth, as well as the opportunity to merchandise literature.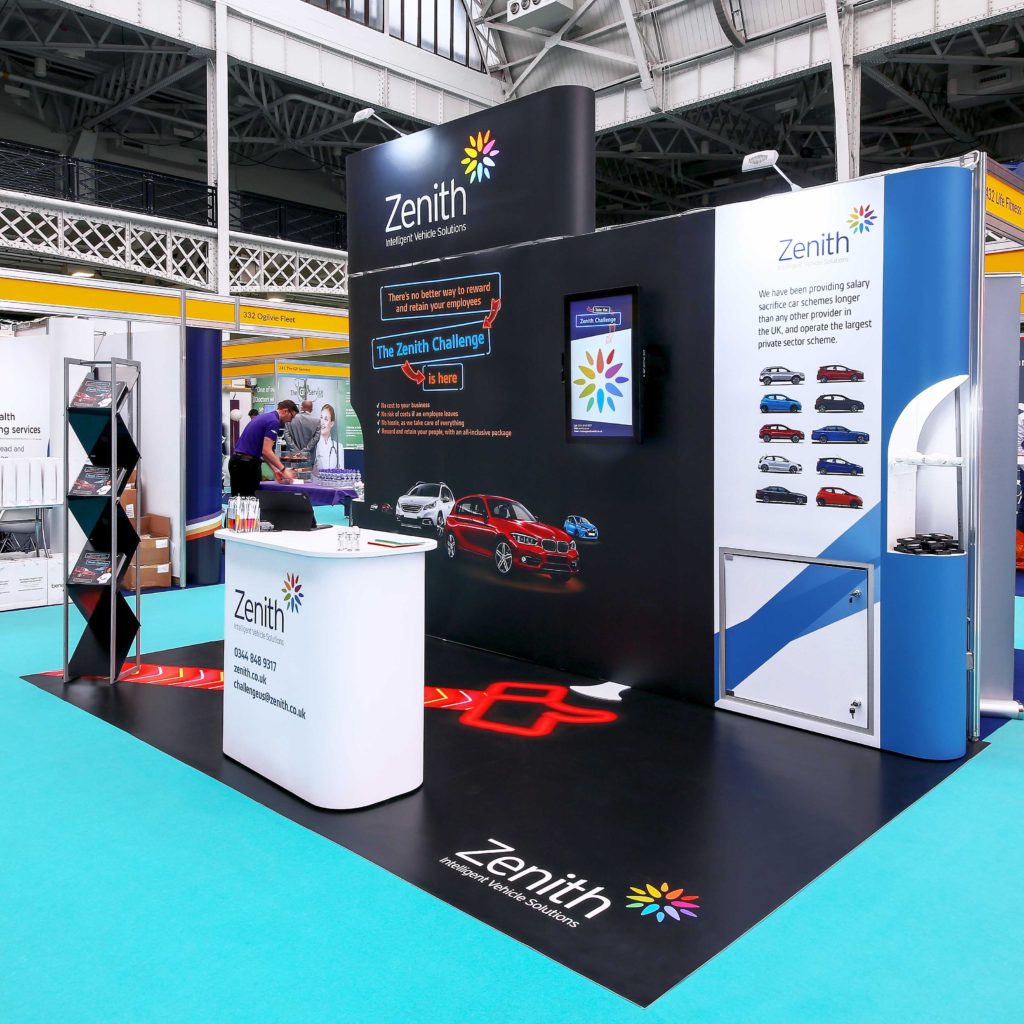 Zenith @ Employee Benefits Live – Olympia, London
Thousands of HR, rewards and benefits professionals flood the buzzing show floor at EBL to speak to exhibitors. Zenith created a space that was open to allow an influx of people onto the exhibition stand at once, whilst using the key graphics of the exhibition stand to showcase their USPs.
✔ Backlit fret-cut panel on high-level branding
✔ Lockable showcase, incl. the graphic to front
✔ Endcap with arch aperture
Perfect for: Maximising the floor space to create a networking zone within the branding of Zenith, and to capture attention with a high-level beacon. The lockable showcase is perfect for smaller exhibition stands that can't necessarily accommodate a bespoke storage area, too!
All three of these smaller exhibition stands have a few very distinctive ways of thinking behind their creation to ensure that they pack a punch.
Match with the overall objective of the show, e.g. consumer event, B2B networking
Incorporate exhibiting features that are eye-catching to visitors
A workable environment for staff on the exhibition stand
Use strong imagery and graphics to highlight branding
Make use of bespoke photo-flooring to tie together exhibition stand design
Make the smaller space work for the client, not against
The Quadrant2Design team have designed and built all types of shapes and sizes of exhibition stands, and are well-equipped to support your smaller exhibition stand design with a free design proposal, drop us an email at designteam@quadrant2design.com or call us on 01202 723500 for more information.
by Logan Harrington
This article originally appeared on the Quadrant2Design website.