In line with the launch of Kung Fu Panda 3, Magnetic were appointed to create a visually-striking campaign for Chinese condiment brand, Lee Kum Kee. Magnetic designed all aspects of the campaign, including the campaign identity, social media posts and promotional material.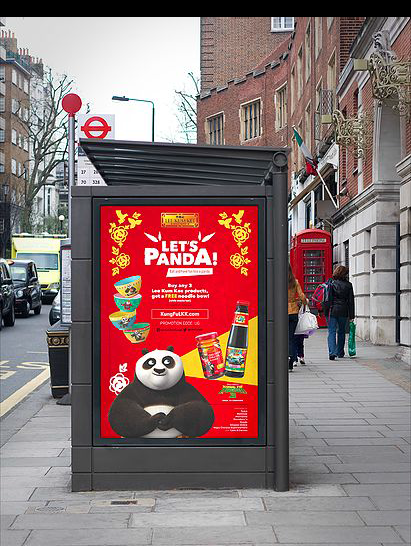 Magnetic are a London-based design agency specialising in full campaign design. Their multilingual team of designers develop and create solutions for web design, branding and print design. For this project, Magnetic met all aspects of campaign design needs by combining strategy, creativity and technical ability.
The main design challenge was to balance traditional Chinese elements with the current modern setting. The campaign also had to be launched in the UK, Germany and Netherlands, meaning it had to be created in three different languages. A final design challenge related to the strict and lengthy approval processes set by Lee Kum Kee and Dreamworks. Due to these approval time frames, design elements had to be meticulously planned months in advance, involving diligent multi-tasking and coordination.
As a full-service creative agency, Magnetic were able to manage the whole campaign from start to finish. They provided all necessary services under one roof, from campaign identity and logo design, to social media posts and website design. They even created key visuals to be used in promotional and marketing material such as magazine adverts, tube billboards and supermarket floor stickers.
Whether you need branding consultancy, brochure design, digital marketing solutions, website design or advertising campaigns, Magnetic ensure great design is achievable for anyone. Magnetic help clients engage with their audience, increase exposure and generate sales, through powerful communication strategies and creative campaigns.
To learn more about how London design agency, Magnetic can help with your corporate branding, promotional material or campaign design, get in touch today at  www.magnetic-london.co.uk