Did you know that by buying your staff and contacts a travel mug with your design you will be saving them 50p off a coffee?
Let me explain, Starbucks offer a discount on every hot drink for supplying your own mug.  In addition to reducing the environmental impact of paper cup landfill they are also encouraging loyalty and saving the cost of their own packaging production which even in the millions of cups is estimated at 16p including carriage and storage.
For a long time this discount has been set at 25p per hot drink but from the start of April they are stepping up the discount to 50p per drink.
This is an initial trial for 2 months but I would bet that the positive publicity of the decision will be enough to keep it in place on-going.
So what could be a simpler way to reward your clients and staff than to give them the gift of 50p off their morning brew?
If you were to buy 100 of our Conway plus mugs at £3.05 (including a 1 colour print) the cost would be refunded by Starbucks in just over 6 drink purchases and 100 people out there would be walking around with a brightly coloured travel mug with your message or logo printed the whole way round for them and everyone else to see. That's got to be worth more than a tile advert in the local paper!
It's an offer that will please both the marketing and finance department!
QUOTE CoffeeCrazy for free set up and (UK mainland) delivery so what you see is what you pay.
Offer valid on all the travel mugs included in the email for orders placed during April 2016, current lead time is 2 weeks from artwork approval. (Prices are ex-VAT).
---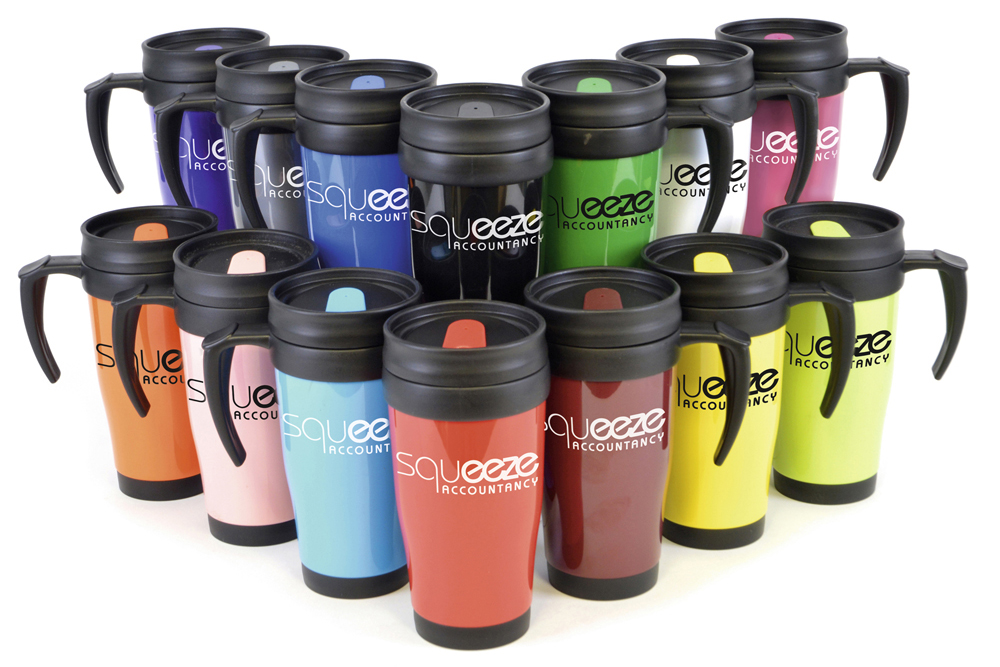 450ml double walled classic travel mug.
Now available with outer wall and matching sip cover in 14 bright colours.
Price includes 1 colour print in area 170 x 45mm.
50          100        250        500       1000       2500
£4.15    £3.05    £2.55     £2.30     £2.25      £2.15
---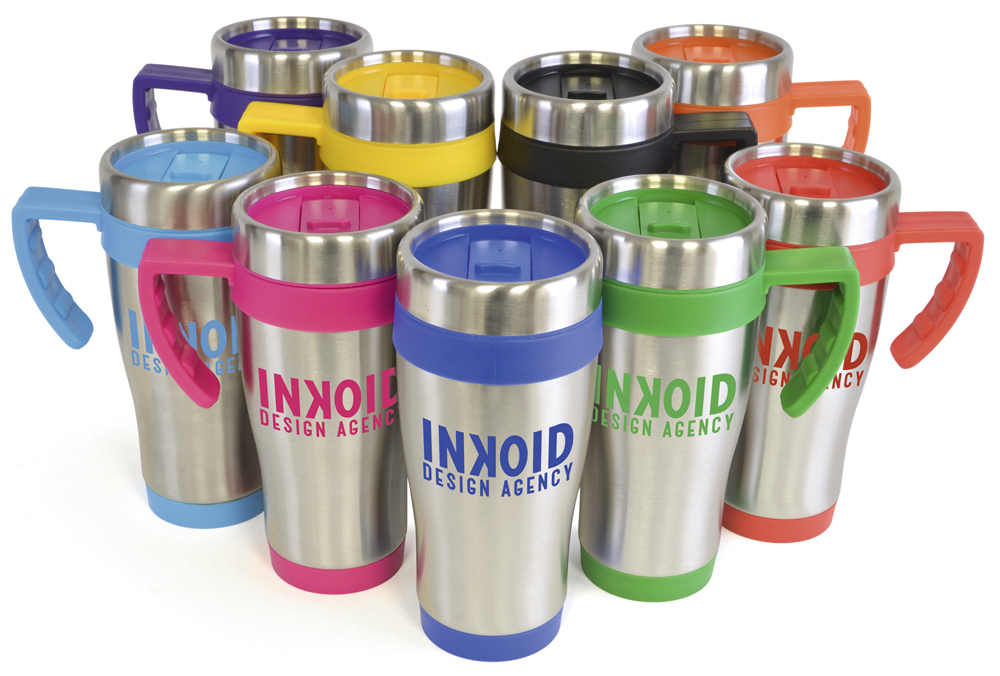 Oregon Travel Mug
450ml Double waled stainless steel travel mug with colour coded handle, base and screw top lid with top with sipper slider.
Choice of 8 great colours.
Including 1 colour print in area 170x35mm
50          100        250        500       1000     2500
£4.35    £3.30    £2.85     £2.55    £2.50    £2.40
---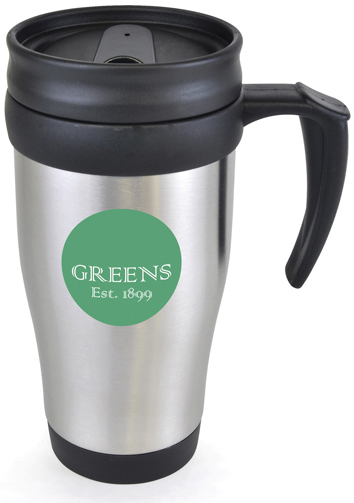 Hadley Stainless Steel Travel Mug
400ml stainless steel outer and plastic interior travel mug.
Screw on lid with slide cover
Includes 1 colour print in area 170x45mm
50        100       250      500      1000    2500
£4.10   £3.05    £2.65    £2.35    £2.30    £2.25
---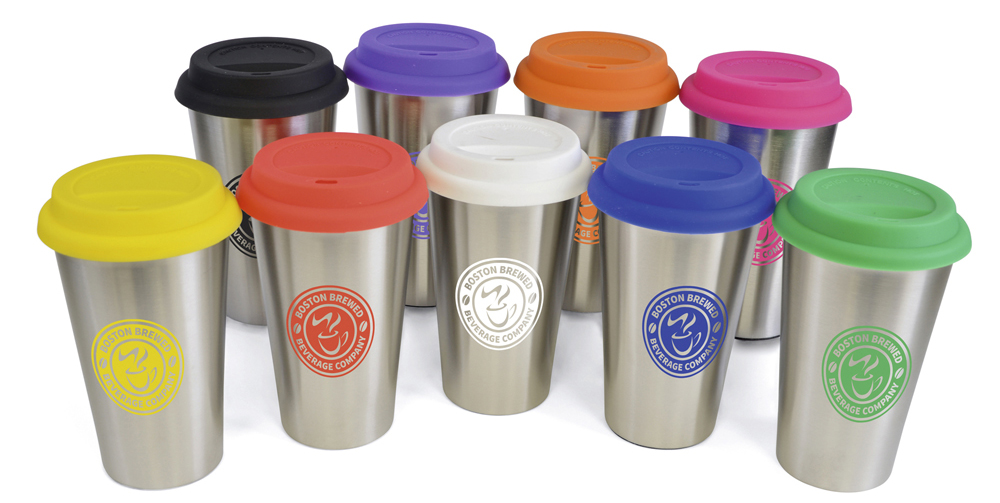 Metal Take Out Mug
350ml double walled stainless stell take out mug with silicone lid in choice of 9 colours.
Includes 1 colour print in area 170x45mm (round the mug).
50        100        250        500       1000     2500
£6.90   £5.80    £5.10    £5.00    £4.80    £4.45
---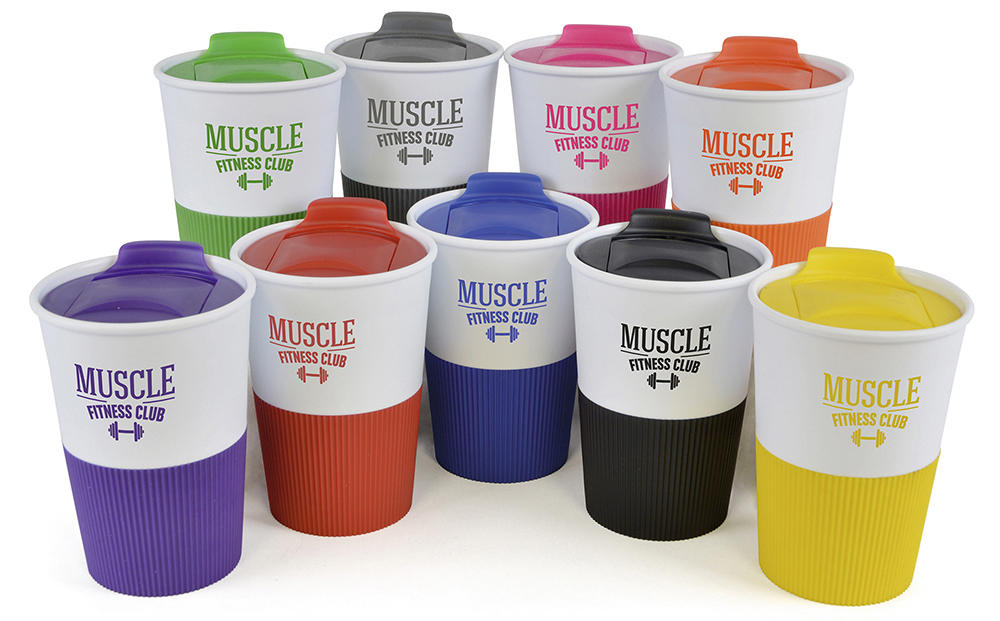 Grippy Take Out Mug
350ml plastic tumbler with matching slider lid held with silicon ring and coloured rubber grip available in 9 colours.
Includes 1 colour print in area 140x35mm (round the mug).
50        100        250        500       1000     2500
£4.25    £3.15    £2.65    £2.35     £2.30    £2.25
---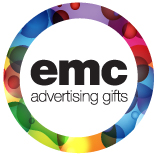 Call the team now
0800 170 7570 or 020 8492 2200
or email sales@emcadgifts.co.uk