Welcome to the A-Z of Video for Professional Services.
This is the first video of a series, in which I aim not only to provide you with as much value as possible with free information that you can apply immediately, but also to lead by example and show you through my videos how all this information can be applied.
Information about what, though?
My intention is to help you be regarded as a Trusted Advisor, to help you attract your Ideal Clients faster, and turn yourself into a Business Magnet by using the most powerful online attraction tool.
To achieve this, my main focus will be to help you 'get it right,' help you select the right content for the promotion of your business or project and shape your content so that it is right for your audience.
All this is independent of whether you'll decide to create your videos yourself or have them created for you professionally. Equipped with this information, you'll be empowered either way, and you'll be ahead of your competition.
Should you decide to create your own videos, you'll have a head start over the competition because they will struggle with getting their content right. This is no exaggeration. It has been borne out by experience over and over again.
Should you decide to have your videos created by a video professional, you'll have a head start because you'll know precisely what is required and whether they deliver what you need or not.
Either way, you'll be ahead. It's win-win.
There will be certain things, of course, that I won't cover in this series. Let me tell you what they are:
Yes, this series will not be technical at all.
All purely technical issues for any type of equipment or software can easily and very effectively be settled by direct appeal to YouTube.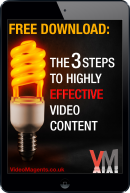 My aim is to empower by helping you to get it right: create, present and distribute effective videos. You can see all of my the A-Z of Video for Professional Services on my blog.
Click here to download the exact strategies I use to create the most highly converting video content for my Professional Services clients.